I'm sharing with you the scariest experience of my life.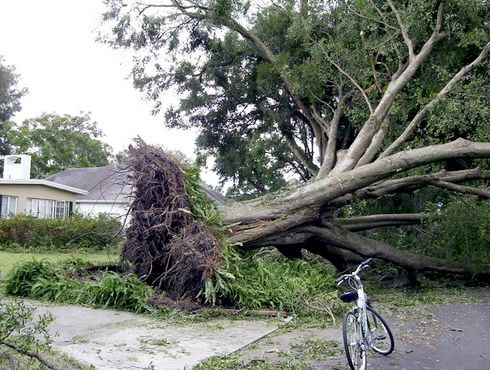 I'm posting my own pictures, probably, later on today.
But... this is what happened during Hurricane Charley.
Inside view of my house was: Everyone was crowded in the kitchen, not too far away from the window. A few candles were placed upon the table, and a cooler was placed near the fridge. All power had been shut off, and it was growing increasingly hot inside the house. My brother, his girlfriend, my dad, and my step mom were sitting at the table, playing Monopoly to pass the time. I pressed my head against the fridge, the heat in the house becoming almost too much to bear. My dad voiced that he should go outside to check how the house was holding up against the wind and rain. I followed him, even though he told me not to. Outside the door was a complete nightmare.
Trees were bending dangerously in the wind, the branches whipping around violently. A few crashed into the ground, as others were dragged across the street into our yard. Leaves were plastered against the side of the house, and the grapefruit of the small tree in our front yard was scattered around the lawn. The rain was at least an inch off the ground, and my brothers car was sunk into the mud, FAR too deep to pull it out then. The wind was roaring violently, and the rain came down the a waterfall. The screening on the outside of the patio was close to falling off.
Never have I EVER seen something so scary in my life...
The horror is almost too much to bear now.
Flashbacks every so often are enough to handle..
But remembering the sight right before my eyes, is something WAY different.
It
was
a nightmare in reality.
One I hope never to experience again.
Comments