Bullet in a Bible
Warning: If you attended one of the '05 Idiot Tour concerts, be prepared for the memory floodgates to open while watching this DVD. Bullet in a Bible, released on the streets November 15th 2005 by Reprise Records, is Green Day's very first live DVD and CD. It documents the two largest Green Day shows ever performed, at the Milton Keynes Bowl in Buckingham, England on June 18th and19th 2005, for over 70,000 fans per show.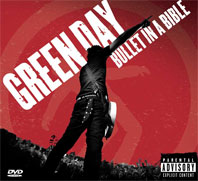 The DVD takes you through practically the whole set list (excluding Knowledge, We Are the Champions, Maria, She, and Jaded), which included the first half of the American Idiot album, then hurling you back to the old days with favorites such as Longview, Basket Case, Hitchin a Ride and Minority. The filming of these live performances is so intimate that you can almost feel Billie Joe's sweat splashing on you as he bangs his head back and forth to the rhythm. The constant changing from black-and-white scale to color gives the movie a high energy/authentic feel.
The film also includes some of the "taping of Bullet in a Bible", where you are taken to the production room with producers Rob Cavallo and Tim Lynch. The next three minutes are footage of the recording masterminds at work, deciding what to use and what not to use.
Perhaps the most unique segment of the documentary is the one where Mike and Billie Joe talk about Tré Cool. About two and half minutes of the movie are dedicated to "the best drummer in rock and roll" as Billie calls him later in the film.
"He's pure drummer," says Mike, "he's just a little catalyst. For good, bad and everything in between."
The remainder of this portion is accompanied with footage of Tré being … well Tré.
The rest of the documentary shows the boys going through their pre concert routine, taking about American Idiot, and a trip to the Imperial War Museum in London, which is where the title Bullet in a Bible is explained.
The Bullet in a Bible (live) CD, which Tré has described as his favorite CD, is like the International Superhits! of the American Idiot tour. It includes all of the songs on the DVD, but is edited for time by leaving out a few "Hey-o" chants and the moaning scene in Hitchin' a Ride. The audio quality is superb considering it was recorded in front of 70,000 screaming fans.
The CD, as well as the DVD, is labeled with a parental advisory for explicit content.