Xx__SkittleWhisperer
Name

emma

Age

29

Gender

Female

Location

australia
Member since November 9th, 2006
Contact
PM

Friends

MSN

ask me

AIM

pfftttttttttttt nopeee

YIM

ummm i did i forget lol

ICQ

wtf?

MySpace

ask me
About
I...am

emma

.
I am

me

. Don't like it?

Fuck off.

I know pretty much everyone says that...but meh I WANTED TO. =D
wooot.




I believe

I am bi-sexual.



PROUD MEMBER OF THE SKITTLES AND EYELINER CLUB!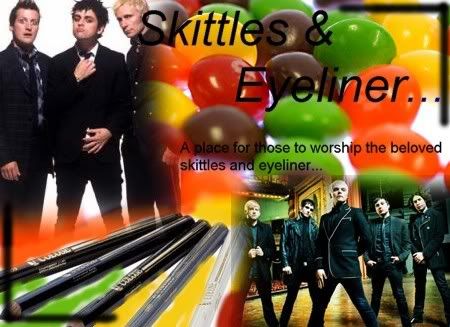 PROUD MEMBER OF THE I LOVE BILLY MARTIN CLUB!
PROUD MEMBER OF THE BRAYER RELIGION CLUB TYPE THINGY!


I love:



Zai <3


Zai...MY WIFEY
Wellll...I dunno what to say bout this girl. I fucking love her. She's an awesome friend..and well person =D! She's always there for mee! And i luff her muchly. I think she was my first official friend on this site. Then we got married. =D! I wish I got to meet Nate, but I never will. RIP.
=D I LOVE YOU ZAI AND I WILL MEET YOU WHEN I GO TO CALI! IFLYSM!!!!


Joey <3


YOU FOOL. I'LL GIVE YOU EVIL SWEDE. AHAHAH. Joey is one of the bestest guys I've met. He's like a big brother to me and I love him. Even when he shows me yucky pics that give me nightmares. Ahah. OMG WHEN YOU COME DOWN, I SHALL TAKE YOU TO JB IN WERRIBEE WHERE THEY HAVE LIKE...12 DIFFERENT CoB CDS. =D


Drake <3


Drake...well I love this motherfucker..hes an awesome guy. I miss what we had, but I'm so glad we did have it.
He is always there for me, always helps me when I need it and supports me...
When I go to Cali, we shall meet...=D


Eggy <3


OMFG EGGEH. I dunno what to say about you, you are a strange one, but I FUCKING love you for it! You are an awesome person, so unique and random. I LOVE our random conversations about....well completely random shit. XD
I promise you, I will write back to your letter.


Long Live The Smiley Parade...




=D
I also love:
MY FRIENDS. THEY ARE MY LIFE, AND I WOULD LITERALLY DIE WITHOUT THEM.
anyways...

I also love..music. Duh.
OMGSKITTLES
FRANK IERO XD
black.
night
my room..thats always dark..
my little haven thing i made in my room XD
my kitty tiger <3
being alone
being with friends...bahaha i just went against myself.
being weird
scaring little year 7s by kissing girls =D
sleeping
blaring music =D
chocolate milk
cookies and cream icecream =D
my iPod, Frankie Armstrong...I LUFF YOU FRANKIE MY SEXY MUSIC PLAYER...i drew his portrait! =D
typing in small case...but i love capital letters too...i just cbf typing them out =D
...and many other things.

I hate:
homophobes
racism
animal cruelty.
hurting my friends...i always seem to do it X[[
slutty girls at school that think they are better than me and ash ^_^
LABELS
people who encourage labels
my own parents thinking I cut ;_;
fakes
being betrayed
having homework on school holidays. WHAT THE FUCK THEY ARE HOLIDAYS YOU ASSWIPE TEACHERS.
...and again...so many more things


ZOMG MY MUSIC...is my life.
BAHAHAH. x]]



YOU WILL FIND ME LISTENING TO::




My Chemical Romance <3


Green Day <3
The Used <3
Aiden <3
Escape The Fate <3
Marilyn Manson <3 (Recently)
Hawthorne Heights <3
A.F.I. <3
Bullet For My Valentine <3
Behind Crimson Eyes <3
30 Seconds To Mars <3
The Red Jumpsuit Apparatus <3
From First To Last <3 (Recently)
Fall Out Boy <3
Evanescence <3
Funeral For A Friend <3 (Recently)
Good Charlotte <3
Lost Prophets <3
Papa Roach <3
...Panic! At The Disco...

not as much as I used to

.. <3



I AM GETTING INTO THE FOLLOWING BANDS FOOLS



ATREYU
AVENGED SEVONFOLD
FLYLEAF
I AM GHOST
STORY OF THE YEAR
TAKING BACK SUNDAY


....there's probably LOADS more.

I can be friendly...if I feel like it. Or I can be a complete fucking bitch. If I hate you, you'll know about it. ^_^

I enjoy burning things. I

heart

fire. =D

I HOLD GRUDGES FOR TOO LONG....

but its fun.



I get bored easily.

I'm easily amused.

I enjoy having fights with automessages. ^_^



I LOVE RIDING IN SHOPPING TROLLEYS



Skittles are love

I heart my red and black stripy socks.

I can be random.

Staring contests with random people are fun...

I'm a perve.



GUY ON GUY IS BETTER!!!




I tend to bottle up my emotions....if I open up to you, you are special to me.
If I dont, dont be offended. I still love you.
...or I hate you. One of the two. =]

I get hurt easier than I let on. But meh =]

I take things too personally. It pisses me off.

I piss myself off.

Alot of things piss me off. Most of them are completely stupid insignificant things. x]

I will almost certainly hurt you at some point...even if I dont want to. I'm sorry in advance.

I am generally a friendly person, if you are to me.

I like to stand up for myself, my beliefs, my bands

((though i will respect your opinions))

, and most importantly

my friends.



Religion annoys me. I have nothing against religious people, but religion itself just pisses me off. =]

I have my own opinions, and 99% of the time, I will state them, no matter what other people think. Although, I

will try

not to offend anyone. It's just my opinion. Don't be insulted by it. =]

I get jealous really easily, and I'm overprotective.

Give me Skittles, and I'll be an extremely happy little 13 year old girl. =D

I'm actually really shy around new people..but once I know you..well yeah. I'm just weird x]




Xx_____The Ten Commandments Of The Black Parade_____xX



1. Thou shalt accept death as it comes
2. Thou shalt sing and march without question
3. Thou shalt face fear and regret
4. Thou shalt let go of thy dreams
5. Thou shalt give blood
6. Thou shalt not fear thy sins
7. Thou shalt protect thy brothers in arms
8. Thou shalt darken thy clothes
9. Thou shalt not walk this world alone
10. Thou shalt carry on.



Xx_____The Ten Commandments Of A Chemical Romance_____xX



1. Thou shall not put a gun to thy lover's head.
2. Thou shall be willing to die for love.
3. Thou shall seek revenge on those who wrong you.
4. Thou shall be a demolition lover.
5. Thou shall unleash the fucking bats.
6. Thou shall protect thy lover from everything (even vampires).
7. Thou shall respect the lord, Gerard.
8. Thou shall sing the holy hymns of the chemical romance.
9. Thou shall see beauty in bloody love.
10. Thou shall rock hard....


meh..I'm getting bored.
*stabs something*
Comments