Justo Lamas (Suenos Tour 2007-2008)
Hey there ^^
I'm soo happy today...Justo lamas came to my school today (only for the Spainish Classes get to see him.) He was really awesome..i mean really. The songs he sung were amazing too. During the show, before he would start another song, he can speak english, its just you can understand him sometimes. It was funny when he tried (i know i shouldnt be laughing at him, but....it was all cool)
One part of the concert, he told us about what his life was like when he was little. He asked us if we had dreams (everyone raised there hand). Then he told us how that we werent put on this Earth as an accident. Also that we shouldnt give up on our dreams...and we should fight and accoplish our dreams. He told us that without his passion for singing and songwriting that he couldnt get through his rough times in his life.
We were the host of his concert so it was my school with i think 2 or 3 other schools in our artitorium today. My school was the most engergtic out of the other schools. After the Concert we had pizza for those who signed up, and we bought like posters, CDs, Pin-ups and shirts. We got things signed by Justo Lamas and pictures with him. Me he signed my shirt i made, one of his CDs i bought, 2 Pin-up posters, and my arm. (lol)
Here is what Justo Lamas looks like: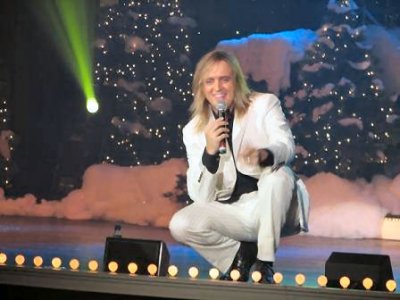 (The best picture i could find of him from a concert last year, this was not from my school it was someplace else)
Justo Lamas is married and has one little girl about i think 3 years old.
if you want to find out more about him here is his website: www.JustoLamas.com (you see a page for like teacher things) you scroll down til you see "Enter The Website" then it takes you in.
so yea thats what happend at my school today ^^
Please Read and Comment (Muchos Gracias amigos) ^^
Comments