The Horse [part two, breeds cont. Colours/markings etc]
YOU WILL HAVE NEED TO HAVE READ PART ONE
Breeds
Akhal-teke
The Akhal-teke was developed in Turkmenistan. It, like the Arab, is a desert breed known for its speed and stamina. It is an oddly built horse, possessing a long thinnish neck, and a long back with its rump considerably higher than its withers. In fact it is sort of the equine version of a greyhound. It normally stands around 14.3-16.3hh. It is mainly defined by the striking metallic sheen to its coat, and it has a long, fine head, with a straight or convex (curved outwards) face. Its mane and tail are quite thin, and its coat is short. It also has Almond-shaped eyes.
Predominant colours:
Normally dun, but also palomino, bay, chestnut, grey or black.
Quarter horse
The quarter horse is an American breed, said to be the fastest horse in the world on a quarter-mile track. It is supposed this comes from their powerful hindquarters, which give it the necessary power for sprinting. It is also prominent in western riding activities, and stands from around 14hh to 16 or even 17hh.
Predominant colours:
All colours are accepted as long as the parents are registered Quarter horses.
Friesian
Another of my favourites.
The Friesian is a breed from Friesland (in the Netherlands) and is gaining in popularity worldwide. It was originally a draft horse, but has been known to excel in dressage, and has even been seen as a circus horse. It is a very distinguishable breed, possessing a powerful build, long thick mane and tail left deliberately untrimmed and graceful movement.
It stands at and average height of 15.3hh, but this can vary from 14.2 to 17hh.
Predominant colours:
The Friesian is almost always black (with only a small star on the face allowed) but on extremely rare occasions, there have been chestnuts, but these are not usually registered as official Friesians.
Clydesdale
The Clydesdale is a Scottish breed, and is similar to the Shire although usually not as tall, their height limit is around 18hh. Originally used for all sorts of pulling work, the Clydesdale is now often seen at shows. It is also used for riding and is actually a graceful horse, and given to a docile nature, although I do not see a dressage career for the breed in the near future.
Predominant colours:
Clydesdales may be of several possible colors, including various shades of bay, roan, chestnut, and black, often with pinto markings.
Shetland
Size for size, the Shetland pony is said to be one of the strongest horses in the world. Born and bred in the rugged Shetland Islands, they are a tough, hardy, intelligent breed, known at a good many stables for being expert escape artists. (I've seen it happen!) They are rather short, standing from around 28 inches to 10.2hh.
They have a very compact build, with large bellies, stubby legs, thick necks and a small fine head. The added uncontrollably bushy mane and tail make one cute pony. (The American Shetlands have longer legs and less hair) But don't be fooled. These pint-sized criminals mean business. BIG business. Aside from this BIG business, they are often used as children's mounts or in show harness.
Predominant colours:
Everything but Appaloosa markings.
American Paint
The American Paint Horse is not strictly a breed but to qualify as a Paint Horse, horses must come from Quarter Horse, US Thoroughbred, or Paint Horse breeding. The paint usually varies in height from around 14hh-16hh. It is an intelligent and willing horse, making it a good hose for general riding, (English and western), for ranch work, rodeo, trail riding, US racing, showing, jumping, dressage & driving.
Predominant colours:
White patches with any other colour.
Lipizzaner
The Lipizzan, or Lipizzaner, is a breed of horse closely associated with the Spanish Riding School of Vienna, Austria where the finest representatives demonstrate the "high school" movements of classical dressage. It is a well built, calm, attractive and graceful horse, although you will be very hard pressed to find one for sale. The foals are born a blackish-brown colour, but nearly always mature to light grey, with the exception of a few rare bay or black ones. Although there isn't really such thing as a "white" horse, it is for some reason acceptable to call a Lipizzan a white horse. I guess the "Dancing White Horses" sounds better than the "Dancing Grey Horses."
Predominant colours:
Mostly light grey, but sometimes black or bay.
Percheron
The Percheron is a northern European breed, mainly French. It is a draft horse, and also used as a riding horse (I've ridden one before, it was fun!) they differ from the Clydesdales and Shires, I've been mentioning in their look and build, but they share the same temperament. They are more refined looking, with less "feathering" (hair) on their hooves and a finer coat. Their mane is also shorter, and often wavy. The normally stand around 15-19hh high.
Predominant colours:
Usually black or grey, although chestnut and bay are also accpeted in some registeries.
Przewalski
The Przewalski horse is the only true wild horse left in the world; Brumbies and Mustangs are either escaped horses or descended from domestic breeds. It has a similar build to a zebra (but with a horses' tail) which is stocky with slim legs, a thick neck, and a large head. They have a very thick winter coat, which is especially thick around the throat and jaw, giving it a 'bearded' look. It resides in Mongolia and is an endangered species.
Predominant colours:
Always some shade of dun.
Colours
Black
Need I explain? Oh yes, one thing. A horse with any kind of other colour except black (markings not included) is not black. Those horses you see that are black except on the belly or around the muzzle are a type of brown I like to call "seal brown".
Brown/bay
Bay
Brown
Brown is, well, brown. Bay is any shade of brown with a black mane, tail, muzzle, eartips, and lower legs. (Just say black points, it's easier.)
Chestnut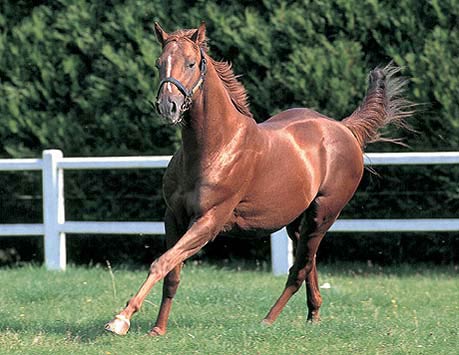 Orangey to reddish brown colour, with a mane/tail the same shade, or lighter or darker. But always the same colour.
An especially dark chestnut coat is called liver chestnut.
Dapple grey
Type one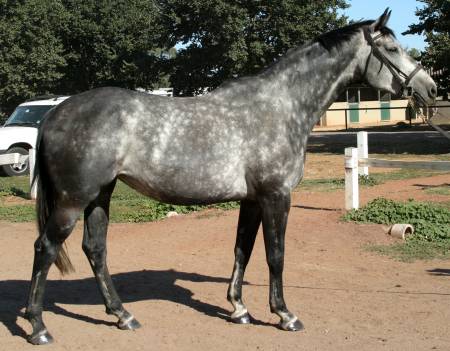 Type two
This is a medium grey with darker spots, and a dark grey or black mane/tail, or the exact opposite.
Fleabitten grey
Light grey with flecks of brown. Often called "freckled"
"White"
Basically light grey. Yeah.
Dun/buckskin
Dun is a yellowish sandy colour (it varies in shade) with a black points, with primitive markings like faint stripes on the legs and a stripe going down the spine- a "dorsal stripe."
Roan
Chestnut, Bay or Black mixed with grey.
Chestnut + grey = Strawberry roan
Bay + grey= Red Roan (my first pony was this colour)
Black+ grey = blue roan
Palomino
Golden brown with a cream or white coloured mane and tail.
Paint colours
Paint colours are patches of white mixed in with any other colour.
There are two types: Overo-bold white head markings, irregular scattered coloured patches and often with dark legs- and Tobiano, where the head is coloured (with the exception of normal white markings eg a blaze, star, etc), the coloured patches are regular, oval or round and at least all of the lower legs are white. However, some coat patterns show characteristics of both types and these are called "Tovero".
Skewbald
Piebald
Pinto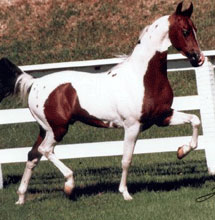 Markings
Leg markings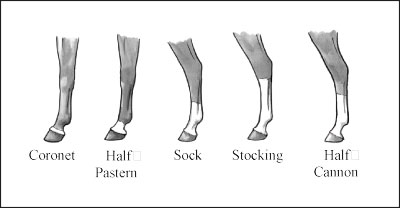 Face markings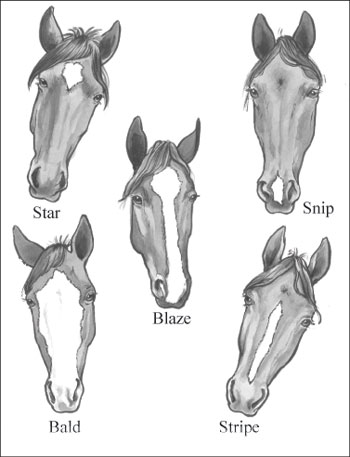 Skeletal/muscular structure
Skeleton
Muscles...and acupressure points...
Social behaviour
Body language
Horses talk using body language and very subtle body language at that. Horse have fantastic muscle control, so their "language" is incredibly complex. In fact, I won't type in down just know, I'll do it some other time. I recommend you find a book on it.
Part 3 still to come! All images found in google.
Comments