Best Albums of 2008
15.

Silver Spoons & Broken Bones

–

Stone Gods
Rising from the ashes of The Darkness came the Stone Gods. Armed with axes of fury and the screeching of a man possessed they plumbed their way through their favourite records and updated it for the 21st Century. Metallica and Thin Lizzy style songs about Spanish holidays, medieval executions and alcoholic beverages never fail to amuse or rock hard.
Download:
You Brought a Knife to a Gunfight; Burn the Witch.
14.

Dig!!! Lazarus, Dig!!!

–

Nick Cave & the Bad Seeds
Fresh from his Grinderman side-project, Nick Cave went about updating the Bad Seeds' sound with more retro-rock poetic ramblings finished off with a coolness not possessed by many on their fourteenth album. A loose concept album, Dig!!! managed to both prove he's still got it as well as show this is by no means the end for the seminal Australian artist.
Download:
More News From Nowhere; We Call Upon the Author
13.

Workout Holiday

–

White Denim
Crash, rattle, shake, roll, rock, up, down, sideways… this Texan three-piece were one of the pleasant surprises of 2008. By taking a bluesy garage rock sounds and just playing it on anything that makes a noise, they made one of the best albums of the year. Part-skiffle, part-Hendrix, you can't help but become addicted to such noisy brilliance.
Download:
All You Really Have to Do; Mess Your Hair Up
12.

The Seldom Seen Kid

–

Elbow
It'll shock you to find out Elbow have been around since the mid-90s. By winning the Mercury Music Prize this year, they've finally and deservedly been put on the map. The haunting vocals of Guy Garvey once again gained the critical acceptance it's been getting for years, but finished off with irrefutably beautiful and melodic songs, this was Elbow at their awe-inspiring best.
Download:
One Day Like This; Grounds for Divorce
11.

Runnin' Wild

–

Airbourne



This may have been the year that AC/DC came roaring back to form with Black Ice, but unfortunately it was out-muscled by fellow Aussies Airbourne. Riffs a-plenty and anthemic sing-alongs helped make the best album that Acca Dacca never got round to recordng. Nothing original, nothing groundbreaking, just eleven bloody brilliant songs, mate.
Download:
Too Much, Too Young, Too Fast; Stand Up for Rock n Roll
10.

The Age of the Understatement

–

Last Shadow Puppets
In keeping with the retro vibe of this year, Arctic Monkeys' Alex Turner and Miles Kane from The Rascals released the debut album from their sixties sounding side project. Sweeping string sections, Tornadoes-style guitars and lyrics perfect enough to please even the biggest critic of contemporary music. We never knew they had it in them.
Download:
My Mistakes Were Made For You; The Age of the Understatement
9.

Nothing's Gonna Make My Day Today

–

Olympus Mons
So many bands profess to be the sound of London, but indie band Olympus Mons really hit the mark where so many others have failed. The off-kilter, lurching guitar helped offset the erratic lyrics and lush vocal delivery perfectly. With styles ranging from song-to-song and the sudden switching of time signatures on the interludes, despite its length, it never becomes dull.
Download:
Let the First Time Be the Last; OK On My Own
8.

Narrow Stairs

–

Death Cab for Cutie
Long confined to the realms of being the band who kicked off the whole 'emo' thing, DC4C finally got round to making the album they always wanted. An eight minute first single, upbeat love songs, artsy soundscapes and spiky guitar riffs all helped make their best album to date, a step-up even from the immense Plans. Narrow Stairs is simply, whisper it, a highly enjoyable album.
Download:
I Will Possess Your Heart; Long Division
7.

In the Future

–

Black Mountain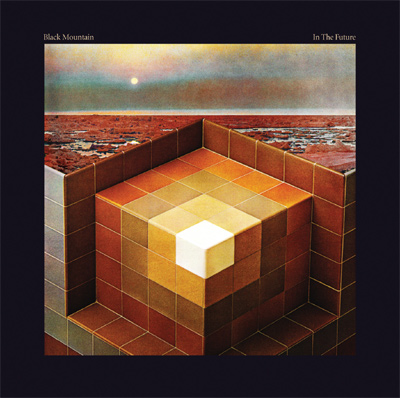 Canadian prog-rock outfit Black Mountain were once one of the most-talked about bands on the planet after Coldplay's Chris Martin praised them. Despite the relative quietness on the mass media front since, their sophomore album was still staggeringly brilliant. Sprawling songs ranging from one to sixteen minutes, In the Future was a huge slice of artsy progressive rock that sounds even cooler with every listen.
Download:
Wucan; Evil Ways
6.

Death Magnetic

–

Metallica
THE return to form of the decade, Death Magnetic saw Metallica recuperate their losses, put aside their differences and go back to what made them the biggest rock band on the planet back in the eighties and nineties. Nine minute epics, teeth-smashing thrashfests and even a third part to The Unforgiven series. Totally uncompromising, devastatingly brilliant and very, very heavy metal.
Download:
Cyanide; That Was Just Your Life
5.

Rockferry

–

Duffy
The Welsh answer to Amy Winehouse? More like today's answer to Dusty Springfield. With her retro anthems, Duffy managed to both pluck at the heartstrings and get the nation moving to the sound of the sixties. Rockferry seems stuck in a time-warp, back in the days when music was still revolutionary and every song was a classic. It was not mere record company copying though, as Duffy's soulful, powerful and emotive voice proved all doubters wrong.
Download:
Mercy; Warwick Avenue; Rockferry
4.

Oracular Spectacular

–

MGMT
Ah, yet another retro sounding disco-dealing alternative rock band. So what sets this lot out from the rest? Much like with The Killers, MGMT's debut album is damn-near perfect. Kooky synth sounds and swirling psychedelica blended together in a wonderful mash-up. Alongside the hit singles, was the sound of a band experimenting to an extreme yet never failing to make a meaningless ditty sound meaningful and absolutely huge. It's an album to which you could go back to in ten years time and still feel obliged to get lost in the groove.
Download:
Kids; Pieces of What; Electric Feel
3.

Pretty. Odd

–

Panic at the Disco
And so it comes to the one that will no doubt divide opinion… On the one hand, they're a band of kids from Vegas copying whatever's big at the time. In 2005 it was emo, this time it's the sixties. But then there could be the argument that this is what the real Panic at the Disco sound like. Certainly the originally gimmicky sheen that came across soon faded with a couple of listens and Pretty. Odd showed itself for what it is: simply a great pop album. Nonsensical lyrics, the odd sea shanty and the sound of a band discovering Sgt. Peppers for the first time confusingly added together to result in an album which managed to be whimsical, bombastic and delightful all at once. The boys done good.
Download:
That Green Gentleman (Things Have Changed); Nine in the Afternoon; Behind the Sea; Northern Downpour
2.

The Bookhouse Boys

–

The Bookhouse Boys
9-piece The Bookhouse Boys seemingly appeared from nowhere, it certainly sounds like this on their eponymous debut. Painting a picture of a drive across the American desert, this sounded more like a Tarantino soundtrack than the alt. rock of a band from the grim urban setting of North London. Dealing in part-blues, part-surf, part-mariachi, part-whatever the hell takes their fancy, TBBs' epic sound would reverberate well with not only any fans of Queens of the Stone Age, but also those who love their music cool with a slice of retro. The wistful longings of a simpler existence in a more idyllic location set loose a musical monster and an unlikely contender for album of the year.
Download:
Dead; Yer Blues; I Can't Help Myself; Mariachi
1.

Seventh Tree

–

Goldfrapp
Some bands require a spot of reinvention; others just need to rediscover themselves. Goldfrapp needed to do neither, but still the transition from the synth-laden glam of their previous two records was in favour of acoustic ambience and orchestral minimalism. Where so many would have failed Goldfrapp succeeded beyond all belief. Seventh Tree is aurally stunning, over bowling in its magnificence and brightens up your day when you need it most. No gimmicks, no pretentiousness, just ten heart-warming serenades of immeasurable beauty. Above all, Alison Goldfrapp proved her voice can be just as gorgeous as she is, and showed that prancing around in spandex isn't all you need to be successful.
Download:
A&E; Happiness; Cologne Cerrone Houdini; Little Bird; Clowns
Comments