Violet SKY.

Name

anna

Age

28

Gender

Female

Location

chester,UK
Member since March 11th, 2007
Contact
About
wassup,this is the bit where i bore the living shit out of ya
well,i'm Anna
i'm 15
i live in planet anna (best place ever)
i'm annoying...but in a good way :]
i'm off me trollie
but i can be shy
don't be afraid to talk to me,i would like to
meet more people on here
Green Day and MCR are my fave bands
You will never come between me and my Friends
Heroes
My Friends
These guys are my rock,they are truelly the most amazing people on the planet,they've been there from day 1. they are my shoulder to cry on,there to make me smile when i'm down,TOGETHER WE SHALL TAKE OVER ZE WORLD!! Just to mention not all of them are pictured but this still goes out to them (they know who they are)
Green Day
well,this band is one,if not THE most important Band in the world to me, mainly because they made me the person i am today,it may sound stupid but its true.I will always remain a Faithful Fan of theirs.
Frank Iero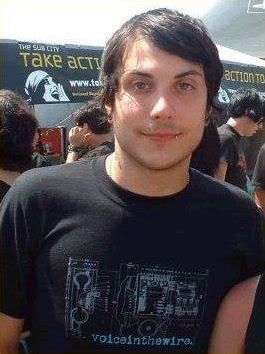 I love this boy soooo much! he was one of the main reasons of going to see MCR in march. he never fails to put a smile on my face. i love everything about him, his personality,his talent, his style, his individuality...EVERYTHING!! and did i mention he's a bit fit?
I Heart Frank's Laugh
Music
GREEN DAY!!!!
MY CHEMICAL ROMANCE!!!♥
SEX PISTOLS!!!
Taking Back Sunday
Bring me the Horizon
Blessthefall
Aiden
The Network
Thursday
Bullet for my Valentine
The Clash
Rancid
NOFX
Ramones
Foo Fighters
The Distillers
Pinhead Gunpowder
Nirvana
Mika
The Fratellis
Red Hot Chilli Peppers
Comments