Tottenham 2 – 2 Leeds United
In another FA Cup shocker, a draw at White Hart Lane has rocked the foundations of the leagues, as a team 41 places below the other, grabs a tie away from home to earn themselves a fourth round replay at Elland Road.
Leeds may have impressed as they earned their place in the match, beating Manchester United [0-1] at Old Trafford, but once again, the bets were against them as they drew Spurs for what was to be an amazing show down. Their financial trouble had taken Leeds to the equivalent of the third division, but under Simon Grayson the luck seemed to change, without the 100 million or so pounds of talent on the bench. Even so, there was no doubt as to which team should have won.
Tottenham Hotspur were always going to be a difficult team to beat for any side. Fourth in the Premier league, their form has been generally strong this season, even with the defeat at Anfield still fresh in their memories. Their bench and squad built of international players, each impressive on their own, but even tougher as a team.
Everyone knew just how this match should have ended.
Before the 8 minute mark had passed, a penalty had already been awarded to Spurs, but the almost gentle attempt on goal was easily saved by Casper Ankergren, standing firm in the Leeds goal. The favourites fought back, their pace stronger than their lower ranked rivals, with free kicks being awarded left, right and centre as the teams fought madly for possession. Both teams missed goal attempts, but it was the 41st minute in which Peter Crouch gave Spurs the 1-0 advantage they'd been hoping for since kick off.
1.06 of extra time finished off the second half, a relatively clean affair, even with the 15 free kicks that had to be awarded. Leeds had not been brought down by the Spurs' goal; they fans mimicking the players determination as they made all the noise required to keep the team motivated. It looked as though the tone of the match had been set, as far as Spurs was concerned; Leeds had been off target and would tire well before the Premiership squad.
The second half started off a little dirtier than the first; Bromby and Doyle both receiving yellow cards for an unfair challenge and unsporting behaviour, respectively. But within 12 minutes of play this had been forgotten as Beckford did for Leeds, what he always seems to do; score that one goal need to add a little bit more fight to the Northern side. It may not have been as well executed, but the scramble equalised the match once more, showing Spurs how this team were not going down without a good fight.
Spurs responded well, substituting Danny Rose with Wilson Palacios; Leeds answered this by getting another 2 yellow cards before anything else; Crowe, for unsporting behaviour and Kisnorbo for an unfair challenge. There was yet more change upon the pitch as Harry Redknapp replaced Crouch and Kranjcar with Pavlyuchenko and Keane, a move which worked in Spurs favour as Pavlyuchenko put his team into the lead once more in the 74th minute.
Things looked desperate for Leeds; switching Becchio for the yellow carded Doyle, the team got booked once more as Kilkenny's unfair challenge resorted in a free kick for Spurs, with Leeds' Johnson finding himself on the bench; substituted after a yellow card, allowing White to come on to support his fighting team.
Not many contested the 5 minutes extra time; many free kicks and bookings had allowed it to build up so high, and it only took Hutton just over a minute of it to become the first Spurs yellow card for an unfair challenge, that could not be shrugged off as 'lack of experience'.
It looked bleak, but Dawson made a mistake, a tackle which brought down Beckford, the only Leeds scorer so far within the match, inside the penalty box. It could not have been contested; anywhere else and it would have been a blatant free kick, but here it meant one thing; a chance for Leeds to fight back and grab that replay at home.
Just before the 96th minute, the players took their places as Beckford lined up for the moment which had all the bars and pubs across Leeds silent. There was no doubt it was going in. The extra minute following the goal wasn't enough for Spurs to take a win before the final whistle was blown after 97.01 minutes of play.
It was another match to show just what this League 1 team were capable of.
Tottenham 2 - 2 Leeds United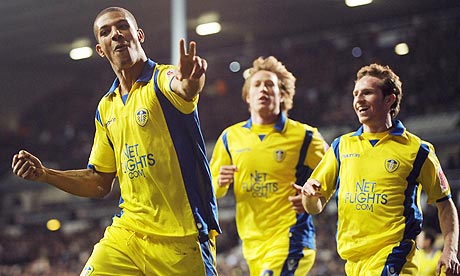 Photograph: Tony O'Brien/Action Images
Beckford celebrating after his injury time penalty equaliser
Comments