Dancing In The Dark

Name

Faye

Age

30

Gender

Female

Location

Strangeland
Member since June 29th, 2006
Contact
About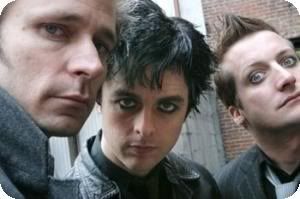 Green Day. My one and only love.
Things I Like:
Pie. Sleeping. Music. Television. Billie Joe. My friends. My iPod. Writing. Random things. Life. Love. Tre. Strawberries. NRDC. Blue. Photography. Mike. Reading. Summer vacation. Chocolate. Adrienne. Guitars. My computer. Peace. GSB.
Things I Hate:
Teenies. Posers. Bugs. Preps. War. Lime green. Rap. Dora the Explorer. Hip Hop. Emo. Pain. Paris Hiltion. Politics.
Bands:
Green Day. The Beatles. The Eagles. Aerosmith. Avril Lavigne. Billy Joel. Blink-182. The Calling. Counting Crows. Creedence Clearwater Revival. The Doors. Fall Out Boy. John Lennon. Lucky Boys Confusion. Nickelback. Paul McCartney. Peter, Paul, and Mary. Say Anything. Sia. Sublime. T.A.T.U. Tommy James and The Shondells. Train. Utada Hikaru.
TV Shows:
Law and Order: SVU. Foster's Home for Imaginary Friends. House. Desperate Housewives. Spongebob. The Fairly Odd Parents. Flavor of Love: Girls Charm School. Drake and Josh. Cowboy Bebop. Ed, Edd, and Eddy. The Real World. Full House. Bones.
Movies:
The Breakfast Club. Ferris Beuler's Day Off. Big Daddy. Back to the Future: I-III. Sleeping Beauty. American Pie. The Nightmare Before Christmas. Bullet in a Bible. The Lion King. She's the Man. Harry Potter. Adventures in Babysitting. Rush Hour: I-III. The Matrix.
Books:
The Lovely Bones. Send Me Down a Miracle. Crank. Impulse. Flowers in the Attic. Burned. Born Blue. Aimee. Mick Harte Was Here. Loser. Hoot. Go Ask Alice. Naked in Death. Lucky. Smack. Goosebumps. Perfect. Where the Red Fern Grows. Doing It. Elsewhere. The Hot Zone. Speak. Annie's Baby. The Man Who Loved Clowns. The Catcher in the Rye.
Welcome to my corner of the world. Feel free to look around.

Comments