KatieDirnt

Name

Katie

Age

26

Gender

Female

Location

with KatieBumpkin and Gabbi
Member since December 8th, 2007
Contact
PM

Friends

MySpace

well my url is www.myspace.com/chokingonmyblood
About
yeah...i kinda suck at these, but i'll try my best though.
i'm Katie and i play bass guitar and uhh...yeah um...
my favorite band is of course Green Day but i listen to a few others. the network, mcr, 3 days grace, etc.
i'm considered emo at my school but i'm actually a punk....or...i'm not so sure but yeah....i'm just goin to take punk for now until i learn a little more about myself.
i've always wondered why people don't act themselves for their friends. if they were good friends, then they'd like you no matter what you do or say. i can't stand those people.
i HATE preps. preps are just lowlife kids who think they're better than everybody else when they're NOT. they're just the same as everyone else except bitchier and more annoying, but they just can't see that...they blind fuckers lol
i like to watch ALOT of cartoons...i'll be putting a thingy for that later
=]
i like monkeys, especially when they throw their own poo. lol. i don't know why though
in my school, there are only 2 social groups... weirdos and preps. of course i chose 'weirdo'!!!! i'd rather have my nails pulled out slowly than be a prep...0.0 wow uhm that was kinda deep. lol
i have O.C.G.D.D., Obssessive Compulsive Green Day Disorder & O.C.M.D.D., Obssessive Compulsive Mike Dirnt Disorder lol
i love to make picture edits that move and stuff and say funny things, so if you ever need an edit then just message or comment me with the pic you want edited and if you want it to say something specific then tell me! =]
once in awhile I'LL have a song of the day...
today's song:
Castaway

MIKE!!!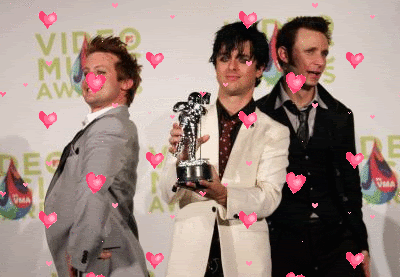 no stealing or i kill you!!!!
jk
i can make you some if you want me to!
^_^


Photos
Comments
commenting myself cuz i am bored