Ideas for Designing a Hexagonal Pizza Box
Having the right packaging solution for delicious pizza can make all the difference. The Hexagonal Pizza Box is one of the types used for pizza packaging, and its design not only can ensure safe and convenient transportation but also help the brand to build recognition and customer loyalty .
Firmness and Visual Aesthetics
The Hexagonal Pizza Box is constructed with a 1:1:1 paper ratio, the outer and inner layers are made of kraft paper, and the middle layer is made of corrugated paper, which provides the best protection against pressure. The hexagonal shape can make pizza packaging more eye-catching. Clear and beautiful printing can be left on the Hexagonal Pizza Box by adopting advanced printing processes, such as matte lamination, stamping, and UV deep embossing. By providing customization needs, it can ensure that the brand logo, pizza taste, and other important details are vividly displayed to meet the brand's marketing needs.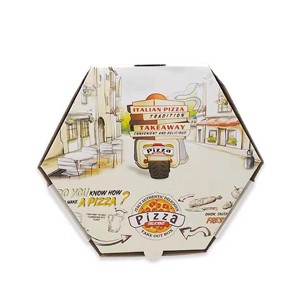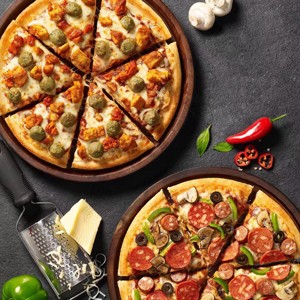 Functionality and Design Touch
A qualified Hexagonal Pizza Box also needs to take into account keeping the pizza fresh. When the Hexagonal Pizza Box is equipped with several vents, it allows the steam in the box to escape, preventing condensation and wet crust of the delicious pizza, keeping the taste of the pizza. In addition, the Hexagonal Pizza Box is precision die-cut to ensure smooth and burr-free edges, and there is a smart opening on the box so that customers can easily take and place the pizza. The size and depth of the Hexagonal Pizza Box can also vary according to needs.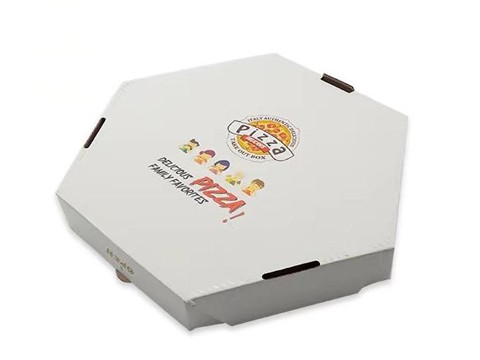 [img]
The Hexagonal Pizza Box combines practicality and visual appeal to take your business to the next level. If you need wholesale Hexagonal Pizza Boxes, you are welcome to Hyde's official website. Hyde has 12 years of export experience and has exported to more than 150 countries, we can provide you with one-stop service at any time.
Wechat: hydepackge
Email: sales08@cnhyde.com
Whatsapp: +86-19955126239
Website:https://www.hydepackage.com
Comments