Red Band Trailers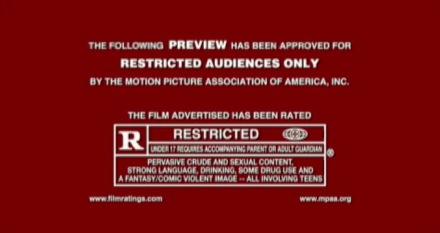 Notice anything strange about this picture? It's not its normal bright green, is it? Look at it for a moment, look at the wording. It reads "The following preview has been approved for RESTRICTED AUDIENCES ONLY". Hmm... aren't most trailers usually approved for ALL AUDIENCES?
Welcome to the return of the Red Band trailers. Red Band trailers can contain pretty much any content from a movie - violence, sex, cursing, you name it. These trailers can be shown only before a showing of an R-rated movie. Sounds good enough, right? Wrong, in my opinion.
Not all R-rated movies have sex, language, and violence all at once. Even if you aren't 17, you're parents have probably let you watch an R-rated movie or two, right? I've seen one, so far. It was rated R for terror/violence, I believe. And there lies the problem: some parents may let their child see a restricted film, knowing its only rated R for something they don't care too much about their children seeing. So, if you let you're kid see an R-rated movie for, say, Strong Language, would you want them to see people having sex in the trailer before the movie? I don't think so.
The largest chain theater in North America, Regal Entertainment Group, just agreed to reintroduce these Red Band trailers to audiences. It's just my opinion, but I find it inappropriate to show certain material in a movie trailer. Not every moviegoer even wants to see those kinds of things! Because if you are seeing a movie that's rated R for Language, you didn't sign up to see people having sex, did you?
What do you guys think of the Red Band trailers?
By Poette
Comments