Performance and Lyrics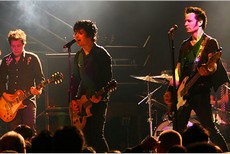 Green Day will be performing live at the Fox Theater in Oakland, California. Tickets are available only to Idiot Club members as of now . In case you're curious as to how awesome a Green Day show is this album, The New York Times posted a review of their San Francisco show on their site.
You will also want to check out GSB's lyrics section. We've added all the lyrics for the songs off of 21st Century Breakdown.
ACT I HEROES AND CONS
Song of the Century
21st Century Breakdown
Know Your Enemy
¡Viva La Gloria!
Before The Lobotomy
Christian's Inferno
Last Night On Earth
ACT II CHARLATANS AND SAINTS
East Jesus Nowhere
Peacemaker
Last Of The American Girls
Murder City
?Viva La Gloria? (Little Girl)
Restless Heart Syndrome
ACT III HORSESHOES AND AND HANDGRENADES
Horseshoes and Handgrenades
The Static Age
21 Guns
American Eulogy
See The Light
Don't forget- the single Know Your Enemy comes out April 16th, just a few more days!
Comments