Warping into the Ultimate Idiots
Rewind back to 2001, Green Day was not at their highest point. Hardly speaking to each other, they were on the verge of a total breakdown. Stress, divorce, and the massive amount of pressure making an album puts on you got to them. Four years had passed since Green Day had released a studio album, so what happens when they do attempt to release an album? It gets stolen, ripped off, or according to Tré Cool (as said on an interview on 100 percent), "sunk to the bottom of the San Francisco Bay." This was the awakening they needed.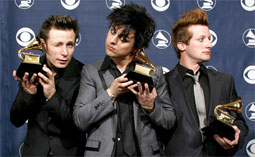 Instead of recording that album again, they started over, they knew they could do better, and they did. Just how much better could they do? Let the awards speak for themselves. They were nominated for 8 Grammys, and got to take Best Rock Album and Record of the Year home. Green Day swept the 2005 VMA's winning 7 out of 8 moon men. American Idiot (song) won Best Song in a Video Game at the Spike Video Game Awards. Then they went on to corrupt the youth of the nation winning the Nickelodeon Kids Choice award for Best Group/Band. The amazing thing is that it's not even half of the awards American Idiot racked up. It seems everywhere you look Green Day is on the cover of a magazine, not just little-teenie-bopper-girlie magazines, like Twist and Tiger Beat. Entertainment Weekly said they saved rock with American Idiot. Billie Joe was on the cover of the Special Punk rock edition of Guitar Legends; inside Green Day covered no less then 20 pages with pictures, articles, and guitar tabs. Last but certainly not least Green Day graced the cover of Rolling Stone, with a caption that said it all, "Green Day: How the Brats Grew Up, Bashed Bush, and Conquered the World."
Just how did Green Day conquer the world? It started with one song, American Idiot. Pop culture, TV, war, and politics had a nasty collision and it made Green Day ill, which is what inspired Billie Joe to write American Idiot. After their album was stolen the guys had a choice to make: go on putting out so-so albums, maybe some B-sides, having a hostile environment when they recorded, or they could suck it up, talk things out, and make what Entertainment Weekly later called "a punk rock masterpiece"; their biggest, most ambitious album to date. They went with option two. President Bush is to thank for a lot of American Idiot, or blame depending on how you look at it. Green Day didn't hold anything back when it came to politics on American Idiot, look at the title of the album. They expressed their opinions, and exposed Bush's presidency for what they thought it was, a total disaster.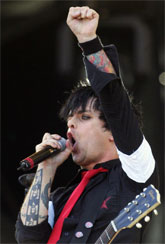 Really Green Day was setting them up to fail, a "punk rock opera", does such a thing exist? Yes (in large letters), in the form of the drug addicted Jesus of Suburbia, his counter part St. Jimmy, and the strong, independent, Whatsername. Those characters' scattered, confusing lives sparked what is probably Green Day's most energetic, offensive, personal, and astonishing album to date. Quite an accomplishment for a band that was hardly speaking not that long ago. Such an amazing album has to be backed up with an equally awesome tour. Green Day has that covered, and then some. Playing old favorites like Brain Stew/Jaded and Good Riddance, plus all 13 of the American Idiot tracks makes for an excellent show that anyone with the ability to jump, yell, and get wild can enjoy. There is never a dull moment, whether one of the guys is dressed up as the drunk Pink Bunny or picking people to come play a cover of Knowledge with them on stage, there is always something crazy happening. All of that added together makes for a show that definitely causes an adrenalin rush. Not to mention they have had incredible bands like Jimmy Eat World, My Chemical Romance, and Anti-Flag in the support slot. They even got some charity work in playing at Live 8 and the Hurricane Katrina benefit concert. For all the poor, unfortunate souls out there who could not make it to a Green Day concert, the DVD Bullet in a Bible was released on November 15th, 2004. It consists of segments from the England shows featuring over 15 live songs plus behind the scene clips with the band, a necessity for all the obsessive Green Day freaks.
Currently Green Day has wrapped up their tour, but they have talked about their next album. They are also currently involved in their Idiot Club, a replacement for the All Ages Fan Club answering your questions personally; the club also includes a chat room, message board, and a lot more. It's pretty safe to say Green Day is one of the greatest, most monumental rock bands on Earth. Their 4 hits, Boulevard of Broken Dreams, Holiday, American Idiot, and Wake Me Up When September Ends ruled TRL. They dominated all the Music Video Countdowns. They owned the radio. It's stunning how a band who warped rock with Dookie can still, over a decade later, be on top of the world and be the ultimate rock stars. The music industry has never seen a band quite like Green Day, and never will again see a band that can match their talent.