Lights, Camera, Action!
Aside from Sam Bayer, Green Day has had other astounding music video directors. Some may have created only one video, others can be credited for over half. Regardless of the quantity, they are all of excellent quality. Green Day has continued to experiment with directors from album to album, and the very first, and extremely successful one was Mark Kohr.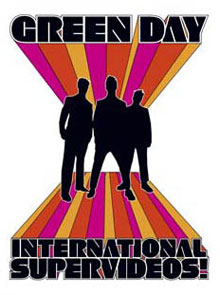 Mark Kohr is from California and has done amazing work with Primus (a post punk/alternative band who was fairly popular in the early to mid 90's. Their latest album was released in 2002). Aside from Primus, Mark has worked with many bands including 311 (he directed Love Song and many more) and has also worked with Cake. A giant thanks is owed to Mark Kohr for videos like Longview, Basket Case and When I Come Around, from Dookie. Mark directed Geek Stink Breath and Stuck with Me from Insomniac. He is responsible for the incredible Good Riddance (Time of Your Life) video, along with Hitchin' a Ride and Redundant off Nimrod. Last, but certainly not least was his contribution to the Warning era with the Macy's Day Parade video.
Kevin Kerslake has had the privilege of working with many great bands like Velvet Revolver and Nirvana, and had exceptionally awesome work with all of them. His video with Green Day, Brain Stew/Jaded, was no exception. Aside from music videos, he is also a photographer and does commercial advertising. In addition to that, he is the founder of an advertising label called Gigantic Entertainment. Furthermore, Kevin is the co-founder of the T-Dance Action Sports Film Festival, which takes place in Park City, Utah at the same time as the Sundance Film Festival.
Another director to contribute to the Insomniac album with his video for Walking Contradiction was Roman Coppola. Roman grew up in San Francisco, California and became interested in film at an early age. When he was 8, he played Sonny Carleone in The Godfather which was produced by his father Francis Ford Coppola. His father directed the entire Godfather trilogy and Roman credits him as a huge inspiration. He directed the Phantom Planet video California and all the videos for the Strokes. Aside from his father being a director, he is also related to Nicholas Cage (from movies like Weatherman and National Treasure). As if his accomplishments weren't impressive enough, he also directed commercials for Coca-Cola and Gap.
Someone who has won awards at the annual Country Music Awards isn't exactly who you would expect to direct a punk rock video, but Evan Bernard's work was, and still is fantastic. Evan used to play basketball for the Atwater Basketball Association, but is now a director. He is good friends with the Beastie Boys and was mentioned in their song Get It Together. Evan has had a taste of acting too, when he played the drunk driver in the movie Friday Night Lights. He won several awards, one being Director of the Year at the 37th Annual Country Music Awards for his video Goodbye Earl with the Dixie Chicks. The two videos he directed for Green Day are Nice Guys Finish Last and the masterpiece Minority.
Francis Lawrence was born in Vienna, Austria, but moved to San Francisco at the age of 3. He has worked with many well-known musicians such as Britney Spears, Will Smith, Aerosmith, Avril Lavigne, and Jennifer Lopez, which is why he is one of the most respected directors in the music video industry. Taking a big leap from 3-minute videos, Francis directed the movie Constantine. His current project is I Am Legend, a movie based on 1945 science fiction novel written by Richard Matherson. Francis directed the video for Warning, clearly expressing the theme of the song to live life your way and neglect cautions. He attended Loyla Marymount University where he studied film and now works for DNA, an advertising company.
Another director who is also signed with DNA is Marc Webb. Before he worked for DNA he had his own company called Naked. He has done over 55 music videos, including Waiting for Green Day. He is high in demand today working with popular bands like The All-American Rejects, Weezer, and Good Charlotte. He has directed all the massively successful My Chemical Romance videos from their second album Three Cheers for Sweet Revenge. His career took off after college and Green Day was one of his earlier projects and Waiting was obviously one of his best videos.
Green Day has had the chance to work with some astonishing directors, and because of the directors' hard work and dedication, Green Day's music was shaped into extraordinary videos. From Mark Kohr, the first director and the genius mind behind the most Green Day videos, to Sam Bayer and the American Idiot mania, Green Day is sure to be dominating MTV and music video countdowns everywhere.