The Age of Insomniac
The age of Insomniac dawned on October 10th, 1995. Just one year after Green Day's first foray into the mainstream (with Dookie), the young band came out with another record. Insomniac was a darker, more record type sound and Green Day's second album under major label Reprise Records. Essentially, it was the band's in Utero. Even the artwork for Insomniac (entitled God told me to skin you alive), was a sign of the band's new direction and it was a dangerous one. Green Day's new legion of MTV fans wanted another Dookie, and instead they got something new, something untested. Unsurprisingly, they began to move onto newer things. Dookie had helped to fill a post-Nirvana vacuum, but could Insomniac match up to its bigger, more successful brother?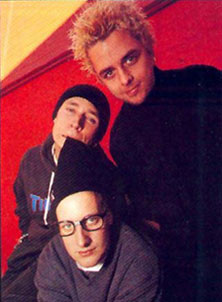 In terms of record sales and critical acclaim, no. However, the album still sold two million copies by the spring of 2006 in the United States. None of the subsequent singles (including the radio favorites Brain Stew /Jaded) were as popular as those from Dookie. The post-Dookie years were also a 'growing up' period in the band's family life, and this was reflected in their music. As we already know, Billie Joe's first son Joseph Marciano was born in March of '95. Tré's daughter Ramona was born in January of that year, with Tré marrying his long time girlfriend Lisea Lyons two months later in March. After close to two years of touring, touring and more touring had taken its toll on the band, and they had to cancel their European tour, citing a lack of energy to be the cause.
Although the band did not complete their European leg of the tour, they still played dates all across North America, Asia and Australia. The various Insomniac Tour t-Shirts boast over 30 dates where the band played at numerous American and Japanese cities.
One other big event that came to pass during the Insomniac period was the band firing their managers, Cahn and Saltzman. This was documented in an issue of Rolling Stone magazine, to be down to the fact that Elliot Cahn and Jeff Saltzman began to circulate copies of J.A.R. to radio stations (Including KROQ in Los Angeles) before the band had intended to release the single. The mistreatment of J.A.R. was particularly sensitive to the band. The fact that Green Day were also cover-stars of a special double issue of Rolling Stone published late in 1995 highlights that they were still considered to be amongst the best rock bands in the world at that time.
Despite the failure to reproduce another Dookie, there were many positives that came with the Insomniac era. A fairly barren period awards wise (at the 1996 American Music Awards, Green Day was nominated for Best Alternative Group which they lost to Pearl Jam, and Best Artist again, lost to Garth Brooks. They were also nominated for a Grammy for Walking Contradiction: Best Music Video, short form), was followed by more chart success. Before the album's release they again hit number one on the US modern rock charts with J.A.R., a tribute to Jason Andrew Relva, a friend of the band. The band also remained a firm favorite with the TV channel MTV.
The Insomniac period was home to some infamous Green Day stunts; one being the demolition of Jay Leno's Green Room. After the band's brief cameo on the Tonight Show, Green Day wreaked havoc upon the Green Room after a performance of Brain Stew. After the show, producers found the room an absolute mess with peanut butter spread in the cushions of the couch amongst other things. They also found an Elmo doll hanging from a makeshift noose. The reason for the bands anger was that Jennifer Aniston was supposed to be a guest on the show and she cancelled the last minute.
Also, on November 21th, 1996, Billie Joe Armstrong 'exposed' himself to more than 6,000 fans at the Mecca Auditorium, in Milwaukee, Wisconsin. After Green Day finished their hour long set, police officers took Billie Joe to the Milwaukee police station, where he was cited for indecent exposure. After he paid the bail of $141.85, he was released. Thomas Christopher of the Milwaukee PD stated, "Mr. Armstrong dropped his pants to his knees and exposed his buttocks to the crowd. After the concert, Mr. Armstrong was taken into custody, given a city citation for indecent exposure. He posted a bail and was released". The last thing the police officers needed was a riot, so they waited until the concert was over before they took any action. They caught up with Billie Joe after the concert and arrested him. "The problem was he exposed himself to a crowd of about 6,000 people," said Thomas Christopher, "Including people as young as 10. That was our main reason for taking the action".
Following the MTV New Year's Eve "Top 100 of 1995 Countdown", Green Day rung in the New Year with their Geek Stink Breath video claiming 48th place, and their When I Come Around video coming in at 4th. On MTV's New Years Eve "Top 100 of 1996 Countdown", the Walking Contradiction video was awarded 64th place, and their Brain Stew/Jaded video came in at 40th place. In MTV's countdown of the best music videos of all times, Green Day was judged to be 1st in 1996 for the Geek Stink Breath video.
Chart Positions
J.A.R. was the first single to be released in the Insomniac Era, peaking at 17th place in the Mainstream Rock Tracks Chart and a spectacular 1st place on the Modern Rock Chart.
Geek Stink Breath debuted in December 1994 on the US television show Saturday Night Live. Geek Stink Breath peaked at 3rd in the Modern Rock Tracks chart and 9th in the Mainstream Rock Tracks chart. Added to that, it reached 16th in the UK Singles Chart, and 27th on the Official Irish Singles Chart.
Stuck with Me peaked at 24th on the UK Singles chart in January of '96. Walking Contradiction gained a 25th place on the Mainstream Rock Tracks chart and came 21st on the Modern Rock Tracks chart, and 8th in the UK Singles Chart.
Brain Stew/Jaded was released on July 3rd, 1996, and came in at 28th in the UK singles chart. It also gained a position of 3rd in the Modern Rock Tracks chart and 8th position in the Mainstream Rock Tracks chart.
Videos
This period saw Green Day release five videos; Geek Stink Breath and Stuck with Me (both directed by Mark Kohr). The Geek Stink Breath video was famed for its blood and gore, and was rumored to be played only at nighttime by MTV. Billie Joe Armstrong is quoted as saying, "Lately I've heard a lot of dentist-office nightmares, so it just struck me as a good idea. But MTV won't play it during the day anymore". Brain Stew and Jaded (both directed by Kevin Kerslake). These two 'merged' videos were given heavy rotation on the music channel MTV. Finally, Walking Contradiction, which was directed by Roman Coppola. Walking Contradiction cost a reputed $300,000 to make due to the number of stunts and special effects used.