Away from Green Day
It's amazing how hard Billie Joe, Mike Dirnt and Tre Cool work as Green Day. Take the previous year as example: constant touring, attending award show after award show and continually promoting their newest album seems to have kept the trio pretty preoccupied. Green Day has been working extremely hard since stage one, which is very noticeable in their music and success. So when the guys finally decide to take a short 'break' how do you think they spend it? Do you think they spend all their time sitting around twiddling their thumbs? Or perhaps on a nice beach with an ice cold glass of lemonade? Maybe, how do I know? Jeez, I don't stalk the guys! However, I do know that they each have had their own various projects.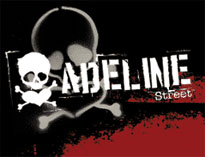 We can see how much Billie Joe enjoys music. Beside Green Day he still plays with another Bay Area band, Pinhead Gunpowder. If that isn't enough he's played with many other bands such as The Influents, The Lookouts, Rancid and Corrupted Morals, just to name a few. So what do you do after playing with so many different bands? The obvious thing: make your own record label! Adeline Records came to be late in the year 1997, in Oakland, California. It all began around a bonfire in someone's backyard in the East Bay. Adrienne and Billie Joe Armstrong along with Lynn and Jim Thieband all had the same intentions: "Put out good music and get it out there for everyone to enjoy." - AdelineRecords.net
The label has signed bands like AFI, The Frustrators and The Soviettes. You can see more of the bands along with the accessories and clothes they sell on their site.
Aside from Adeline, Billie Joe is apparently going to have his own Gibson signature guitar model made. Not sure when this is happening but he was at Gibson USA a while ago seeing how they are made and going over model details. Oh, and playing them so he could be heard throughout all the halls. Oh yeah.
Mike's been in several bands as well: Screeching Weasel, Crummy Musicians, Squirtgun and The Frustrators who he still plays with. He didn't make his own label, though he did get his own bass line called Mike Dirnt Percussion Bass supported by Fender. Nah, he got himself his own restaurant instead! Formerly known as Eugene's Ranch House, Rudy's Can't Fail Café opened in September 2002 and can be found at 4081 Hollis Street in Emeryville, California. The café is named after a song by the classic punk band The Clash.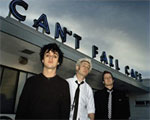 How you get so rude and reckless,
Don't you be so crude and feckless,
You're been drinking brew for breakfast,
Rudie Can't Fail.
The restaurant happens to be well-known for its breakfasts on many of the best restaurant review sites online. It's pretty snazzy on appearance: clear tables filled with cars, buttons and other 60's odds and ends, a glass case which holds Barbies dressed as the employees and a notice board displaying The Band of the Month are some of the neat things that can be found on the interior. The most interesting part of the exterior would probably be the statue of a man holding a fork spinning on the roof. Seems like a down right amazing café, and who knows? You might just happen to see Green Day dining there.
Then there is Tre Cool. Firstly he named an amazing alcoholic drink Cheech, that before then had remained nameless. This was followed by his own signature drumsticks. Zildjian Tre Cool Artist Series Signature Drumsticks they're called and were designed by the drummer himself for fellow drummers out there who need "a substantial stick and a solid feel".
Oh, and how could we forget The Network! Not that we're saying anything...I mean I'm not stating that Green Day have anything to do with them...or that they could be involved with them in any way or...Well you get the point I think so moving right along.
What will come next? Only time will tell.