Green Day Takes on CBGB's
It may not look like something out of a dream, but that's exactly what CBGB's was for the up-and-coming punk bands of the 70's. At a time when disco was all the rage and "street music" (later called "punk") was unheard of, CBGB's almost accidentally began a trend that developed into a punk rock craze.
CBGB and OMFUG got its start in December of 1973 thanks to its founder Hilly Krystal. The club's name and acronym stands for Country, Blue Grass and Blues, the type of music originally intended to be played there (the OMFUG which stands for Other Music For Uplifting Gormandizes, was added to give the club name a cruder sound).
But the intended music styles performed by bands like The Wretched Refuse Stringband and Oregon didn't get much of a chance to shine because not so long after the club opened it received its first rock act, a band called Television.
Television became the gateway to the punk scene at CBGB's and lead to the booking of bands such as The Ramones, The Talking Heads, The Cars, Iggy Pop, Tom Petty and the Heartbreakers, and Blondie, some of which got their start at the club. Bands like The Ramones, who were the second punk band to play at CBGB, inspired listeners (especially in England) to rediscover bands such as The Sex Pistols and The Damned and also gave birth to "punk style" (i.e. ripped jeans, razorblade earrings, mohawks and safety pin décor).
CBGB's is still a symbol of America's youthful spirit, and a place where people can "express frustrations, desires, anxieties and maybe even dreams", as Krystal describes it.
A Surprise Show
After a successful night at the California Music Awards in 2001, Green Day headed down to the New York club, CBGB's. The trio originally intended to support a friend, former member of D Generation, Jesse Malin, by watching a show performed by his recent band Bellvue. But Green Day would never pass up a chance to do what they do best, perform.
Just after midnight, Green Day took the stage using the equipment of the last scheduled band of the night, Tiered, to play a very drunk and spontaneous unscheduled show.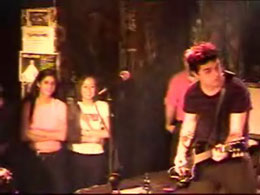 The set ended after 2:00 am and included old material such as She, Longview and Welcome to Paradise and a finale of Minority, their latest hit at the time. A few cover songs (Mahogany, Outsider and Surrender) were also thrown in.
Billie Joe commented about the performance later in a question-and-answer session about the performance. "I felt like it was in the tradition of how you play a place like CBGB's which was going to see your friend's band play but you actually end up on stage" he said, "I think if I was to walk away from a CBGB's experience, that would be the ultimate way to do it." Tre quickly added "You can check it out at www.greendaysreallydrunkplayingatcbgbs.com".
RIP CBGB
CBGB has been fighting to remain at 315 Bowery in New York City since their lease was up on September 1st, 2005. Their landlord, the Bowery Residents Committee (BRC) has refused to renew the lease and although CBGB submitted a proposal for a new lease, BRC has not responded to the request. The case went back to court and CBGB lost the suit. Hilly Krystal is currently trying to find another New York location. He is also thinking about possibly opening a CBGB's club in Las Vegas.