Internationally Known Shenanigans
Dookie, Insomniac, Nimrod, and Warning, all 4 very well known albums that produced unforgettable hits that hold monumental positions in rock history; after all they are all Green Day albums. So, after having 19 hit songs, it only seems logical to release a Greatest Hits album, thus International Superhits! was born.
International Superhits! was released November 13th, 2001 and since its release has sold 1.2 million units, which resulted in it being certified platinum as of June 2005. Its highest position on the Billboard Charts was #40 and Playboy magazine gave it 3 bunnies out of four, quite an achievement. Aside from the 19 hits, it also had two new songs, called Pop Rocks and Coke and Maria. International Superhits! was also released as a DVD special titled International Supervideos!, showcasing all the hit videos that had been loved by fans over the years. An album full of hits had to have a hit tour to support it, so Green Day headed on a disaster, a Pop Disaster to be specific.
The Pop Disaster Tour kicked off in Bakersfield, California at the Centennial Garden, and with Green Day in the show, it was a night to remember for many. Green Day was accompanied by bands such as Blink 182 and Jimmy Eat World, Kut U Up and Saves the Day. The tour earned fantastic reviews from all critics.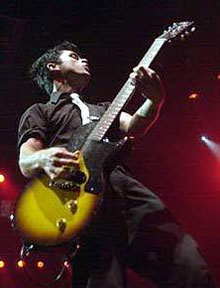 The tour was such a success, and any fan who wasn't fortunate enough to go can wactch a documentary called Riding in Vans with Boys. It shows concert footage, tour van moments, and has plenty of backstage access for everyone to enjoy. Cake fights, Billie branding innocent fans, and Tré...being Tré are the ingredients needed for one birlliant movie, and Riding in Vans with Boys is a must for all Green Day fans.
The Pop Disaster Tour wasn't only promoting one album, it was also promoting the album full of rarities and B-sides, Shenanigans which was released July 2nd, 2002. Shenanigans is the only Green Day album that didn't have any music videos, but it does have some wicked Ramones and Kinks covers. Green Day hadn't released an album completely full of new songs since 2000 with Warning, so releasing rarities was the next best thing. The band was at a rocky point and had some issues they needed to discuss. They were at a point where this tour would help them decide if anyone even wanted to do "Green Day" anymore, it was becoming more of a chore, and not a pleasure. Those issues would be dealt with prior to the release of the Grammy winning album American Idiot, but don't skip ahead too fast, plenty more happened before the release of American Idiot.
Just prior to the release of International Superhits!, Green Day was featured on the #875 issue of Kerrang! Inside you will find a five page spread with pictures and an interview with Billie Joe. In the April 2002 Issue of Spin, there is an article on the Pop Disaster Tour. Green Day's biggest supporting magazine had yet another article, endorsing the new tour, the April 2002 edition of Rolling Stone. In the August issue of Spin, there is a concert review of the May 9th, 2002 Dallas Concert.
Aside from music, Billie Joe decided to try his luck at acting on the UPN show Haunted. On the episode featuring him, he played a character named Ernie Kravits. Ernie was a ghost who placed bets on horse races, an interesting combination. His episode aired on November 12th, 2002.
Mike Dirnt also had other things he was working on as well. His side project, The Frustrators, released their second EP, Achtung Jackass, in 2002. It consists of 10 songs, which you can read about on The Frustrators page on the Adeline Records official site.

Not all was well though. Tré Cool would go through his second divorce in 2003. He and his wife Claudia had been married since 2000, and had a child together named Frankito. For whatever reason, they decided their relationship wasn't working and needed to separate.
After quite a while staying out of the limelight, Billie Joe reentered it, and not in his most sober form. Billie Joe was arrested January 5, 2003 for driving under the influence. He was picked up fairly close to his house in Berkeley, California. Instead of trying the old "But I'm famous" excuse, Billie Joe humbly accepted responsibility for his actions, paid a $1,053 bail and was on his way back home.
International Superhits! and Shenanigans are two of the greatest Green Day albums, but are very much underappreciated. A lot of fans were skeptical about the release of a greatest hits album, and thought the band had run out of creative ideas for new things, but it was only a break to allow creativity to grow and excel to new and bigger things. Then, followed by another album of songs that had already been heard, hope of a new good Green Day album were sinking, but as time has showed many many awesome things did come after International Superhits! and Shenanigans.