Kings for More than a Day
October 14th, 1997 is a very significant day in the history of Green Day: the day they made one gigantic step upwards in musical quality. Nimrod, their 5th studio album selling 80,000 copies in it's first week, was well beyond the masturbating days of Longview and proved that it was possible for punk bands to grow up and still rock like always.
The Insomniac tour had been shortened due to the European cancellations. This left Green Day a lot of time for writing.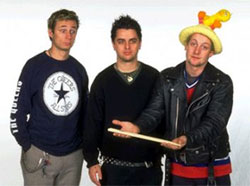 Nimrod is one of Green Day's longer albums with 18 fabulous songs lasting 49 minutes and 12 seconds. It was home to one of the most popular Green Day songs ever, Good Riddance (Time of Your Life). Some people would say Good Riddance is a misleading song, probably the people who made the song about a bitter ending break-up the number one wedding song of 1998. Regardless of why Good Riddance was written, it earned the band a lot of respect and credit as more than the snotty punk band that produced Dookie. It reached #2 on modern rock charts at its peak position and it was the PGA Golf Tour theme song. You can also hear Good Riddance on two episodes of ER and the very last episode of Seinfeld.
Not all of the songs on Nimrod were quite as relaxing. Platypus (I Hate You) showcased Billie's very creative language and as a result lead to some legal issues. Due to the foul words used in the song, the lyrics couldn't be printed, but that didn't stop anyone from learning them. Green Day had built up a lot of energy and when they unleashed it, they couldn't help but get in a little bit of trouble.
On November 11th, less than a month after the album had been released, Green Day made an appearance at Tower Records. Appearing there turned into destroying everything in sight. By the end of Green Day's little visit "nimrod" and "fuck" had been spray-painted on windows and thousands of dollars worth of damage had been done.
Then in March of the next year Green Day was booked to stay at the Sunset Marquee, and they did a hell of a lot more than just spend the night. Mike found the need to shit on Juliette Binoche's balcony. Can you imagined how thrilled she was? So thrilled in fact that she tried to get Green Day kicked out of the hotel, but she wasn't successful. To continue harassing the guests, Tré confiscated the guest list to seek out the Rolling Stones room and later decided to make some calls to Keith Richards…. in the middle of the night. Something about the middle of the night appeals to Green Day because one member of the band randomly, and nakedly, knocked on people's doors. Billie Joe almost got in a fight with some washed-up 80's pop star. To conclude a very entertaining night, they chucked a TV from a third story window. Billie Joe then stated, "Glass was everywhere, that's all I can tell you". True genius, who would have guessed there would be glass everywhere when you throw a TV out a window?
To add to the comical chaos, Green Day was asked to do an interview on Recovery TV. Well, Recovery TV got a little more than they bargained for. The guy who was interviewing them was boring them out of their minds with questions they had heard 1,000 times before so they proceeded to throw things into the audience and it lead Tré to abusing a Barbie Doll and, I quote Tré, "There's a lot of things you can do with Barbie". Being bored never killed anyone, but Green Day didn't want to take that chance so they created their own entertainment and dominated the instruments on the stage. Despite the host telling them they couldn't do that, Green Day proved they very well could and played The Grouch on live TV. After they finished, they were quickly escorted outside and asked to leave.
Nimrod had an outstanding tour, also filled with a bit of insanity. At a show In Fillmore, California in December, one fan in particular was really causing some issues, and security wasn't doing anything about it. Before someone else got hurt, Billie Joe decided the only logical thing to do was kick the kid's ass. When the fan refused to come up on stage and fight, Billie jumped in the mosh pit and made the kid fight. Moral of the story is, don't act like an extremely idiotic moron at a Green Day concert, Billie Joe isn't a sissy, and he will kick your ass.
Green Day was also asked to play the KROQ Weenie Roast too. Arion Salazar from Third Eye Blind attempted to "bear hug" Mike while they were performing, and Mike wasn't too fond of that idea so he kicked Arion away. Then later after the show was over the fight continued backstage and resulted in Mike being sent to the hospital with a skull fracture. No one was certain who actually threw the beer bottle that hit Mike in the head, but no charges were ever pressed.
Not all of the Nimrod tour was that violent, but it was an incredibly awesome tour. Green Day hit Europe, United States, Japan, Australia, and South America playing over 100 shows, most of which weren't gigantic venues. According to Mike most shows they played were clubs that held about 2,500 people, which is what they like doing best. Green Day didn't do the Lallapalooza or Mudstock Festival this year, also according to Mike, because "We don't really buddy up with other bands too well. You know, I got enough of that crap in high school." However, Green Day was scheduled to play the Mt. Fuji Rock Festival, but it was cancelled. To enjoy the day off they headed to an amusement park with some other bands and Tré ended up shooting the Foo Fighters drummer with a BB gun.
Green Day wasn't in the media quite as much as they had been in the past, but they did rack up a few well-deserved awards. At the MTV Music Awards Green Day won Best Alternative video for Good Riddance (Time of Your Life). They were also nominated for the Viewers Choice Award, but lost that to Diddy (or whatever he currently calls himself). They were also nominated at the American Music Awards for Favorite Alternative Artist. Rolling Stone gave Nimrod a 3 and 1 star rating and it received a B- from Entertainment Weekly. Green Day was all over the charts with singles like Redundant, Hitchin' a Ride and Good Riddance.
Since its release, Nimrod has gone double platinum and is still a very monumental album in their career. It showcases the diverse talents the band possess, and I'm pretty sure the band enjoyed making it and all the experiences that came with such a phenomenal album. It goes without saying Green Day were kings for more than a day and I'm not exactly sure how to sum up something so wonderful, so I'll let its #1 song do it for me: "It's something unpredictable, but in the end it's right, I hope you had the time of your life."