The 924 Gilman Street Project
The 924 Gilman Street Project, also known as the 'Alternative Music Foundation' is a famed Berkeley all-ages club. Since its establishment in 1986, the Gilman Street Project has been a haven for aspiring punk rockers, maligned youth and East Bay citizens. The venue is regarded as the west coast version of New York's CBGB's, and is famed for bringing a positive place for youth and music to Berkeley. One of the country's oldest DIY punk clubs, what sets it apart from most other Punk venues is its endeavour to provide a safe environment, free from drugs, alcohol and violence.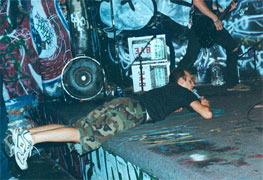 Since the beginning, racist, misogynist, or homophobic bands or performances have not been allowed. This comes because the punk/hardcore scene at the time was fairly violent. Not an easy task for a scene famed for its sex, drugs and rock 'n' roll outlook on life.
The Gilman is also not limited to music alone; they host art shows, movie nights, plays, anything which gives young people a time to shine. Another thing which makes the Gilman unique is that it is not purely a spectator club. Its members frequently get involved in the running of the club, to share ideas and make it better. At the Gilman you are asked to get involved and volunteer at the membership meetings, which are open to anyone with a membership card (Membership is $2 for a year). People are encouraged to come to membership meetings and help decide how the club should be run, and if any changes need to be made, they are discussed. During the weekdays no shows are played, which allows political groups and groups like narcotics anonymous to use the space.
History
The Gilman's first show was on December 31st of 1986. The idea to establish an all-ages club had been around for a while, and in April, a venue became available at 924 Gilman Street. The building was derelict and in bad condition: work was needed to make the building secure and stable, the plumbing had to be cleaned up and electricity to be installed. All of the work was done by a selection of keen volunteers who knew little about construction, bringing a whole new meaning to 'DIY Punk'. After eight months of hard graft, paying over $4000 in rent and making the venue accessible for all, they could finally hold shows there. As soon as they passed the last fire inspection, the first show was held. And they haven't looked back since.
Over the years, the Gilman has spawned a number of successful acts, such as Rancid, Operation Ivy, AFI, Neurosis and most notably, Green Day. Even though these bands are too famous to play at the Gilman nowadays (They have a strict policy that no band signed to a major label can play there), they are still very much a part of the Gilman's rich history.