Green Day's Beginning: Lookout! Records
Before Green Day's mainstream success was even thought of, there was a band called Sweet Children who desperately needed a label. Coincidently, there was a man named Larry Livermore with a label who needed new, aspiring artists, and as a result Green Day was born.

Lookout! Records, Green Day's first label, was founded by Larry Livermore and David Hayes in 1987. Located deep in the Berkeley punk scene, in the early 90's Lookout was the label to be on if you were a punk band in the Bay area. Aside from punk, Lookout! Records has expanded genres too with Indie bands and even some hardcore artists. With bands like Blatz, Operation Ivy, and Rancid, Lookout! Records had major underground success. Larry Livermore spent very little money advertising and keeping budgets low, which meant they could afford to support their bands, which is why Lookout! Records was such a notable label. Lookout! Records was home to several of Green Day EP's, vinyls, and albums. 1,000 Hours and Slappy were their 2 EP's on Lookout! Records. They also released the album 39/Smooth. Then they combined those together and got 1,039 Smoothed Out Slappy Hours. The last album released on Lookout! Records was Kerplunk. However, some people were not satisfied with Lookout! Records at the time, and the co-founder David Hayes left to form his own two labels: Very Small Records and Too Many Records. He designed a lot of band logos, like Green Day's, but because of copyright issues Cinderblock is the company name you see on the merchandise.
Larry Livermore also left Lookout! Records in 1997 when he sold it to Chris Applegrin. Larry has said: "I loved discovering bands, starting new things, inventing new ways of getting things done," which is why he formed Lookout! Records to begin with, "but what I didn't enjoy was sitting in an office fielding requests and demands to spend ever-increasing amounts of money on what I thought was a foolish attempt to mimic the bloated excesses of the major labels." This lack of balancing budgets and spending money wisely is what made Larry leave, and lead to much bigger problems for Lookout! Records in the future. Just prior to Chris gaining control of Lookout! Records, Screeching Weasel had left the label. One of the first things Chris did was get them to come back, with a much more understandable royalties agreement. In the process of all this, Screeching Weasel talked Chris into buying their record label Panic Button. This was the decision that ultimately leads to the decline of Lookout! Records. Buying a record label is extremely expensive. It is estimated Green Day made way over 1 million (closer to 3 million actually) in royalties every year. Larry Livermore can be quoted as saying, "I'm not in position to give an exact dollar figure, but put it this way: it would have easily been enough to pay off all of Green Day's back royalties." So instead of paying money owed to a band that kept the label running, they bought another label, not an intelligent choice. Screeching Weasel, Avail, Pansy Division, Blatz, Filth, The Riverdales, The Lillingtons, and many, many more bands have left Lookout! Records due to unpaid royalties. After spending money in bad ways and giving out a few too many IOU's, Lookout Records lost Green Day.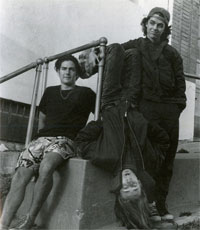 Just recently, August 1st, 2005, Green Day pulled away from Lookout! Records, forcing the label to stop putting records out for the rest of 2005 and to lay off about 2/3 of their workers, and it may be permanent. They were owed a lot of money, but it wasn't so much about money as it was about trust. If it was about money, Green Day would have pulled away a long time ago, as Mike puts it, "I feel we've more than honored our handshake agreement with Lookout. I think that's really fair. There comes a time where you're like, 'Okay, how long do you want to support your record label?'" When all your financial dependencies rely on one band (who isn't even signed with you anymore) it shows that you need to rethink how you're spending your money, some unwise choices had been made, which is why Green Day and many other bands pulled from Lookout.
So you're probably wondering, if money wasn't going to pay royalties, where was it going? Advertising, a lot of advertising. That's one thing Larry Livermore didn't do, he did however keep his budget in mind. Spending money like a major label when you can barely afford to keep the bands you have was destined to lead to some financial trouble. 50,000 dollars was spent to get a booth at the Warped Tour, which was ultimately pointless because they couldn't compete with the booths around them. Pansy Division (before they left Lookout) made a video that cost more than the recording budgets for their first, second, and third albums, and sales didn't increase. As with a lot of bands, advertising wasn't helping in the underground punk circuit, fans listened to what they wanted, it didn't matter how many promotions you crammed in their face.
So now where is Lookout! Records at? They have gotten a hard kick from reality, and decided to act like the small label that they are. Green Day is still owed a massive amount of royalties, and who knows if they will ever see them. Lookout! Records has lost its once phenomenal reputation, and it has been replaced with a sketchy, shady one. Chris Applegrin says they will continue to release records and he intends to fix the mess he has been avoiding for so long, hopefully brightening Lookout's future, because as of now, it's looking pretty grim. Regardless of legal disputes Green Day has with Lookout! Records now, without the label, Green Day might have never made it to where they are now. If Larry Livermore hadn't signed them, mainstream labels may not have noticed them, which would have meant Dookie would have never been hugely successful, and we would have no politically charged American Idiot. All the albums sprinkled in between would be missing as well. An endless amount of appreciation is owed to Lookout! Records for helping Green Day become what they are today.