The Man Behind the Green
Rob Cavallo is a very important musical figure when it comes to Green Day and their amazing success. Things could, and almost doubtlessly would, have turned out extremely different for the trio if they had ended up not being approached by the producer. For the worse, or even better, who knows? But ultimately Green Day's future would have been dramatically altered.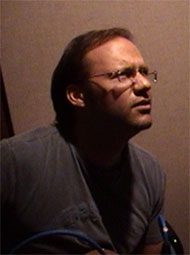 The first 10 years of Rob's life were spent where he was born, in Washington, DC. At an early age he was instantly surrounded by music since his father, also named Rob, happened to be a manager in the music industry. He owned Cellar Door where he handled recording clients such as Little Feat Weather Report and a little artist known as Prince, you ever heard of him? It was not very surprising then that Rob Sr. relocated his family to LA when Rob Jr. was 10 years old.
Young Rob seemed to not mind, as his father often let him tag along to work with him. There he ended up learning how to play the guitar, and picked up other various musical knowledge facts, which would most likely come in handy later on in his life. At home, Rob pursued these interests in his room, strumming on his guitar and listening to records. His musical hobbies expanded when his father bought him a Teac A3340 four-track tape recorder, and Rob instantly became involved in making his own multi-track recordings. Throughout his childhood he was already forming a perfect start towards the career he would end up devoting himself to.
After high school he attended the Dick Grove School for Music, and also began to work with a top engineer George Massenburg. He assisted with building different sorts of electronic musical equipment and was also a second engineer during some recording sessions. He was on his way to becoming an amazing producer and he did…with a little help from his father.
Rob Cavallo Sr. introduced his son to Lenny Waronker of Warner Bros Records, which just so happened to own Reprise. They had an interview, and afterwards Lenny offered him a position in the A&R department, another division of Warner. He immediately began working with Michael Ostin and many others such as Ted Templeman, Tommy LiPuma, and Russ Titelman.
In 1992 when another employee in the department approached Cavallo about producing his band, the Muffs, he agreed. The same recordings would later impress Green Day. Here is where it starts, you still with me? Good.
Around this time record companies everywhere seemed to be all trying to persuade Green Day to sign to their label, but Cavallo ended up getting the trio with some thanks to this album he produced.

After his amazing job on Dookie he was made Senior VP at Reprise Records, which currently is where he's at. Besides producing many of Green Day's albums, he's also worked on recordings for the Goo Goo Dolls and Alanis Morissette along with soundtracks for Clueless, Godzilla and many others. The most recent record he produced on is the bazillion times selling (exaggeration, but you get the point) album American Idiot, once again by Green Day. At the moment he's working on Jewel's 6th album called Goodbye Alice in Wonderland.

Nice going, Rob. We salute you.